Floating Jungle Raft Hotel: A Must-Stay in Kanchanaburi
Author : ONTHEWAYTOTV.COM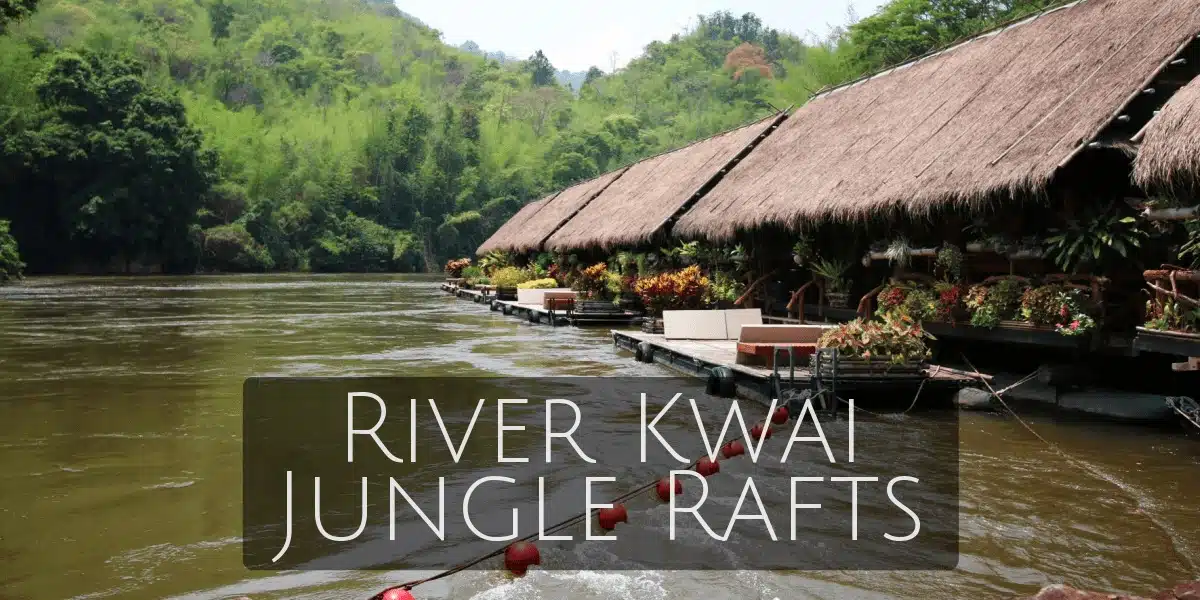 For a long time, I thought jungle raft hotels were something you only see on these Buzzfeed Facebook clips. "The Coolest Hotels in the World (that you'll never be able to afford." "Spend a night at this amazing hotel floating on the river." It just doesn't sound real, does it? It's a fantasy. And then I actually stayed in one of them. What surprised me the most was that I got out of this experience much more than I ever expected.
Visiting Kanchanaburi to stay on River Kwai
Our little trip to Kanchanaburi to stay over River Kwai came as a surprise even to us. Having a clear picture of our route from Trat to Northern Thailand, Kanchanaburi wasn't even a place we took into consideration. It seemed a little bit out of our way and would have to be a detour that we weren't sure we could afford. Our visas were slowly running out.
Everybody who knows us is aware that we're not the type to go on a tour somewhere – not usually at least. But everything changed spontaneously – as always while travelling. We discovered the perfect combination between a relaxed stay in a place away from the rest of the world and a cultural experience that opened our eyes to a couple of things we never realized before. But let's go back to the most important details.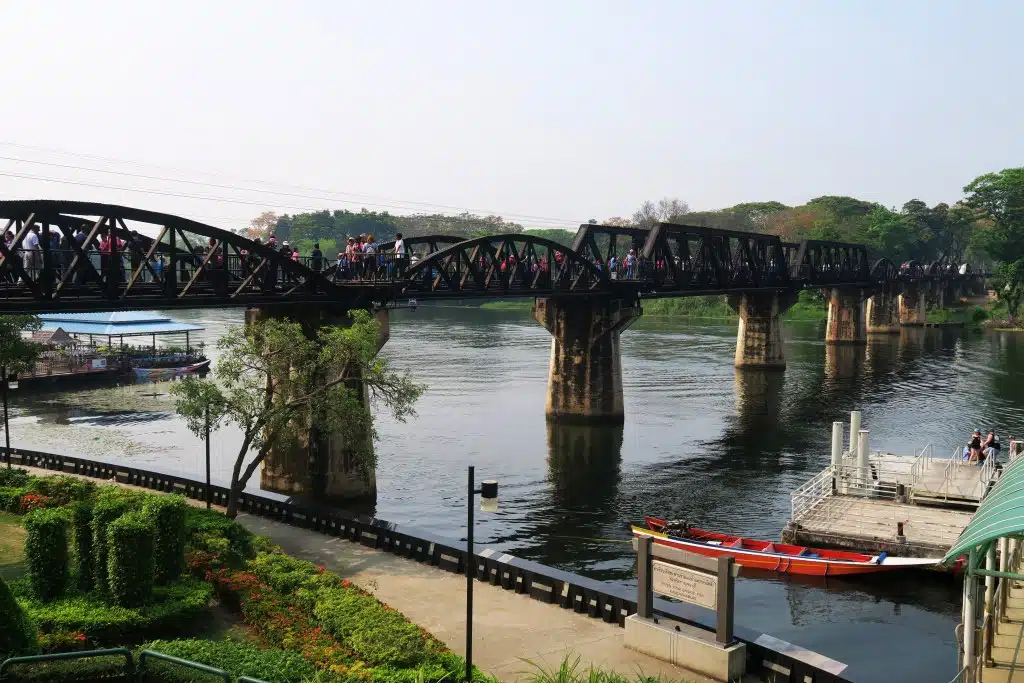 The jungle raft hotel with the end-of-the-world feel
River Kwai Jungle Rafts is an amazing, huge floating hotel situated over the famous River Kwai. You remember the bridge, the book, and the film, right? That's the one!
And when I tell my friends about this, they don't quite get the hype about the floating part. – Yes, it floats, quite literally. Because you can feel it moving when you fall asleep in your room at night listening to the water splashing over the bamboo platforms. You can feel it when a boat passes us by. You can feel it when you're having dinner on the floating restaurant at Jungle Rafts. Honest-to-God-truth – it's absolutely amazing!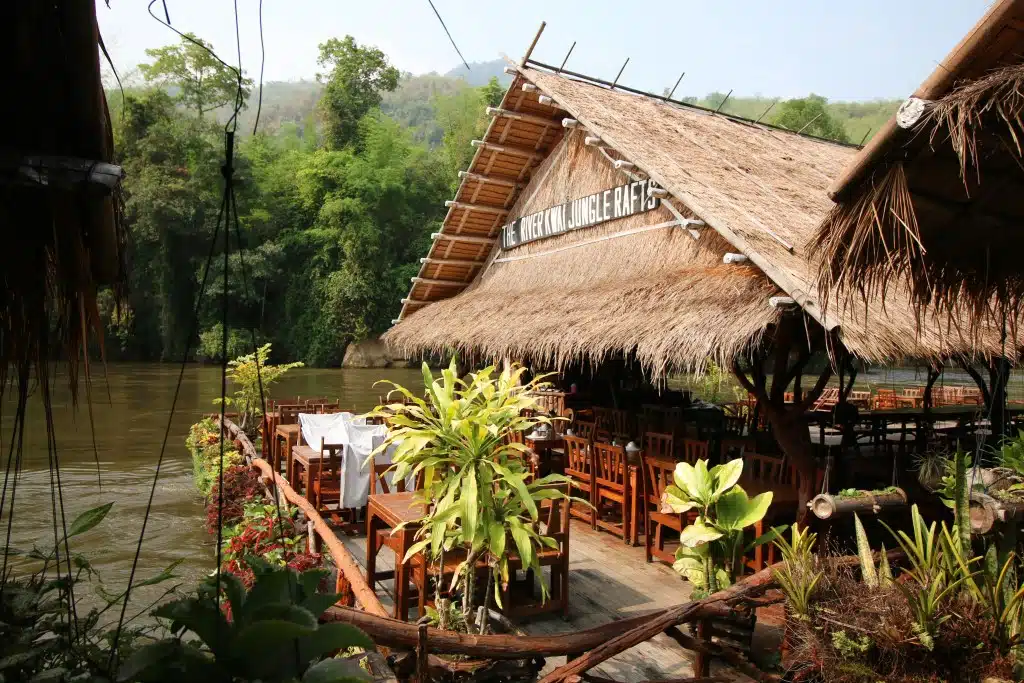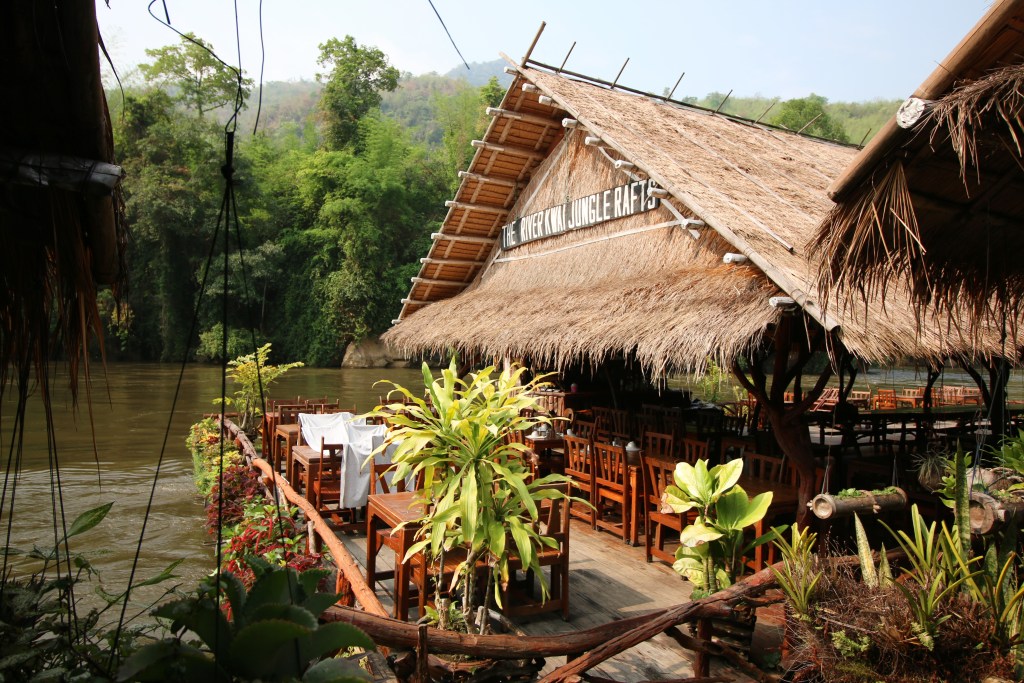 Jungle Raft Hotel Internet Detox
But River Kwai Jungle Rafts is actually one of a few floating hotels in this area of River Kwai. Its uniqueness lies in the 'end of the world' aspect of it. There is no wifi or electricity in the hotel. There is no telephone reception either. And that means there's no hot water or air conditioning. But you know what? You don't need it.
Why would you? The luxury of this place lies in the fact that there is a hammock outside each room. A lovely wooden table where you can chill, read books, or play cards with your friends. Or talk – because without social media people can actually talk to each other again. And all of this with a gorgeous view of the River Kwai and the beautiful surrounding hills and forests. There are no distractions from the beautiful scenery of this place.
And that's the main reason why you should stay there – to get the rest that you deserve away not only from work or social media but also from people. Nobody can bother you, nobody can message you or tweet you or tag you. I loved the fact that my phone would be left somewhere in my bag and stay in the room to the point I didn't even know where it was. Because I simply didn't need it.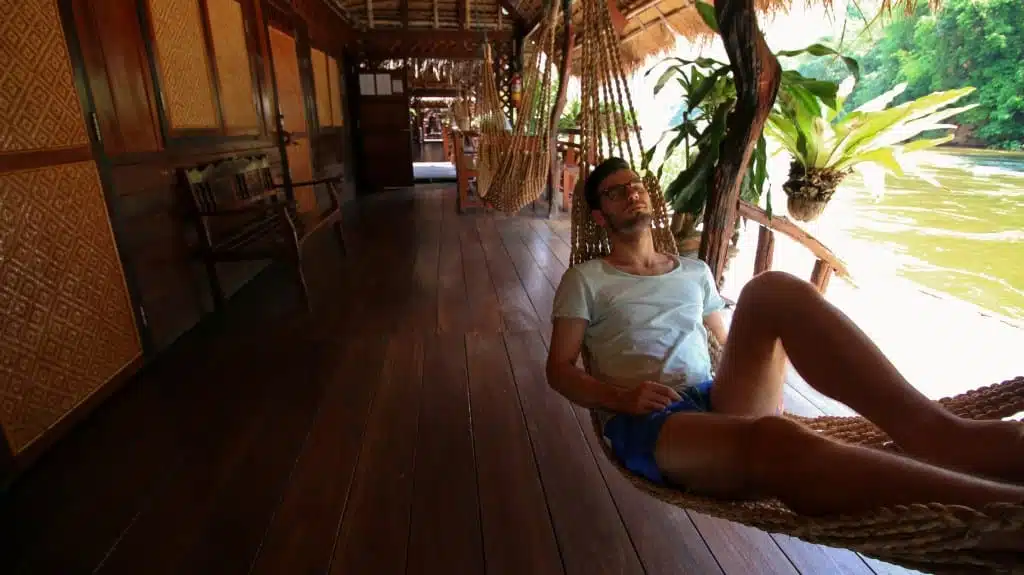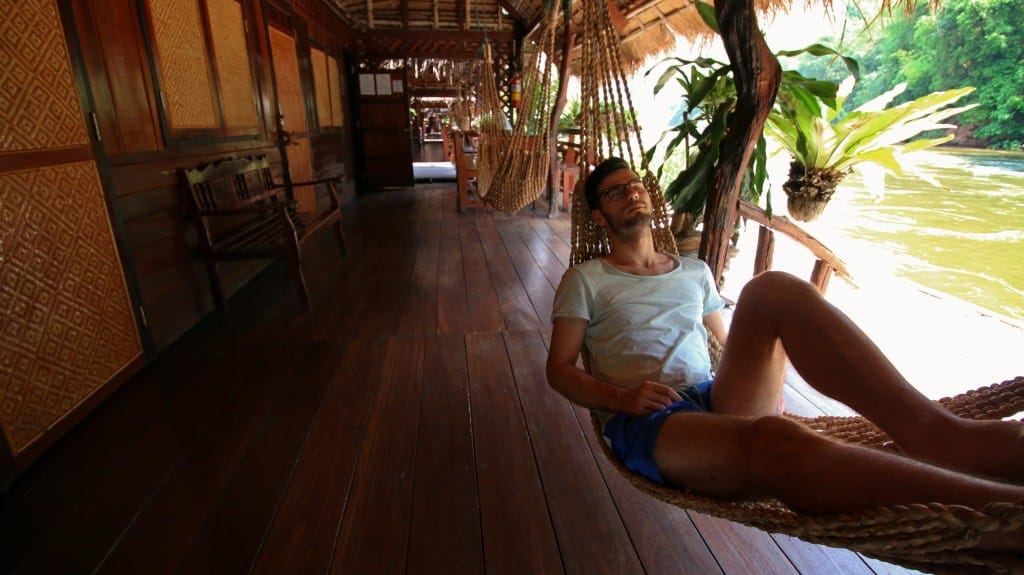 Switch your phone off and read a book in the hammock!
River Kwai Jungle Rafts Floating Hotel is a great detox for everyone addicted to being 'online'. Checking their notifications, posting everything on social media and generally all wifi related stuff is out of the picture. Even we had to be conservative with recording everything as we had limited amount of camera batteries on us. Now I'm glad we couldn't spend our whole time with our cameras in hand, but actually reading books or swimming in the river. Oh, right, I completely forgot about that!
You can actually swim in the famous river Kwai with almost no effort at all. You jump off the platform at the front of the hotel and you float all the way to the end. And repeat. As many times as you'd like. It cools you down and feels like one of these 'once in a lifetime' opportunities because it's not every day that you stay in a floating hotel!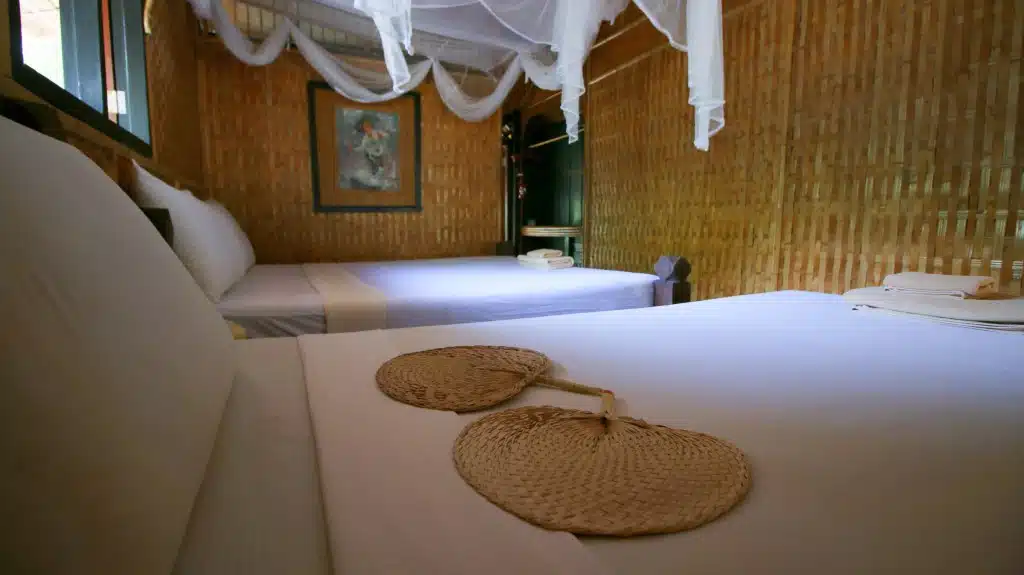 Jungle Raft Hotel – What are the raft hotel rooms like?
Each bedroom at River Kwai Jungle Rafts offers two big and comfortable double beds, mosquito nets and fully-functioning bathrooms (except for hot water, but you really don't need it considering how hot it gets).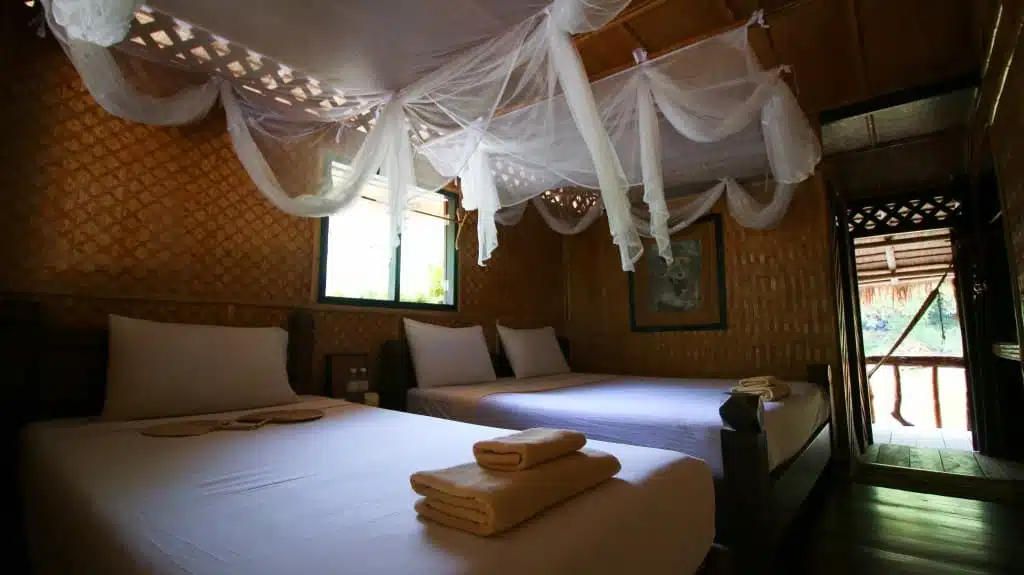 Despite how seemingly basic the accommodation is, everything is impressively clean and taken care of. The beds were comfy, the mosquito nets didn't have any holes in them and were beautifully tied up when we first entered the room. It was fantastic to fall asleep to the sounds of the river surrounding you.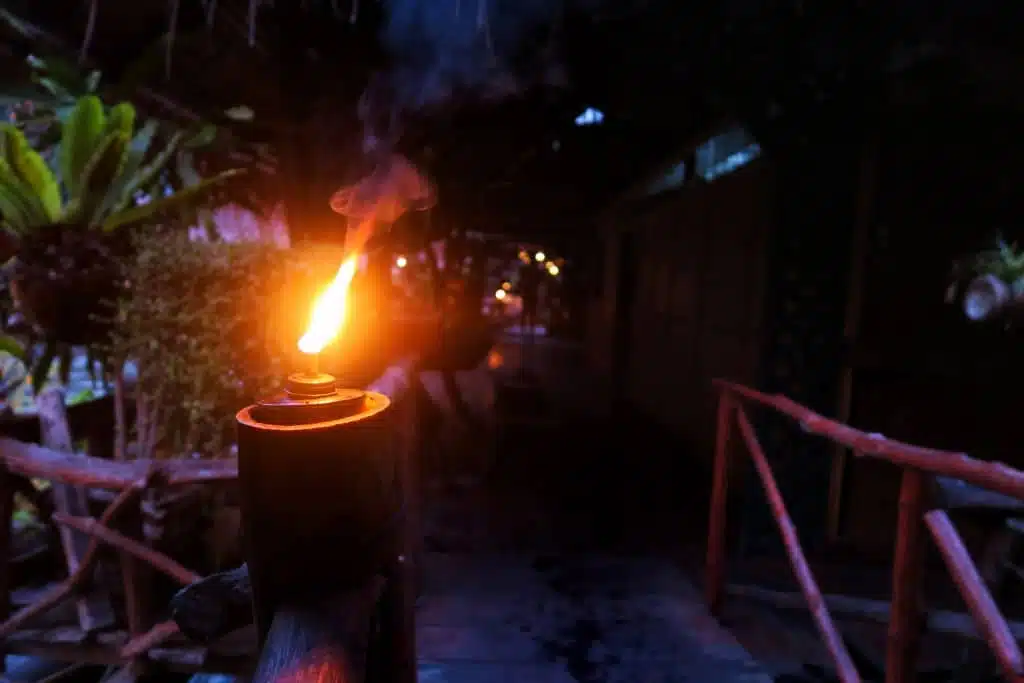 A Survivor-style hotel in Thailand
Fans of Survivor will appreciate the Tribal Council-look of the hotel at night. Upon sunset, the whole floating hotel is decorated by kerosene lamps scattered along the way from the front to the back of the raft. It makes going for dinner feel like a walk to a Survivor-style tribal council. Each room gets a kerosene lamp as well, but we often chose to not use it inside our bedroom after sunset not to attract mosquitos.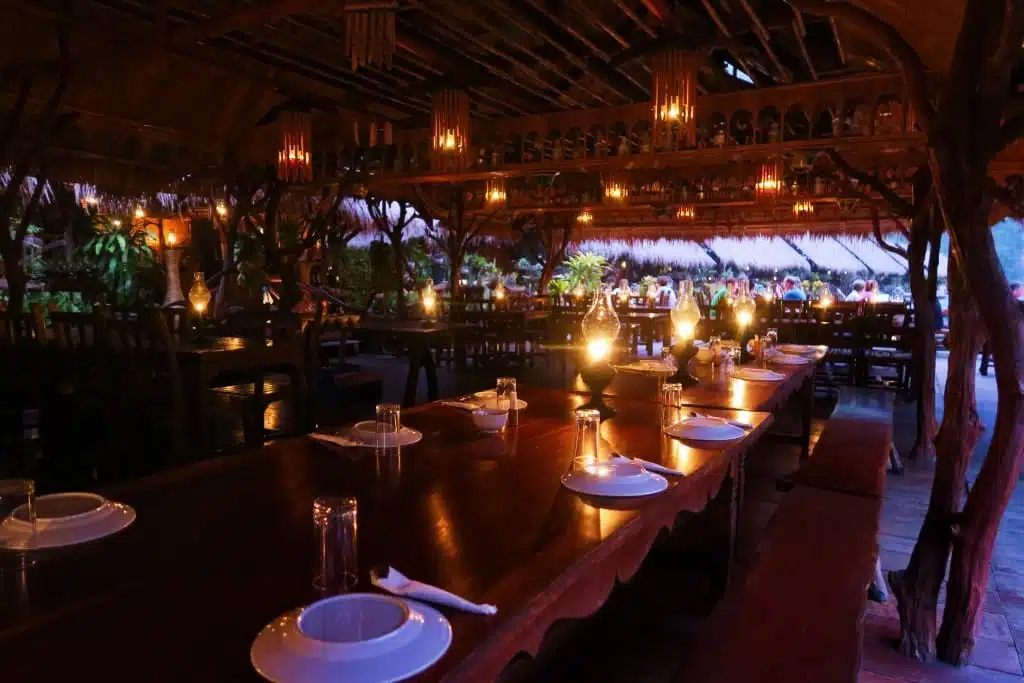 River Kwai Jungle Raft Restaurant
The food served in the floating hotel's restaurant was absolutely delicious and we loved every part of it. Each day the meals were a little bit different but always fresh and tasty.
Picky eaters might not like the fact that there is no menu that you can choose from. Every table gets the same four to five dishes on their table and shares them with rice. Every time we ate there, there was a vegetarian option and you can always ask for seconds of your chosen dish – in that sense food is unlimited. We'd get excited every time it was time for another meal. Lunches and dinners at River Kwai were to die for!
All the food during your stay will be included in the price of the tour. There is a possibility to order meals outside of these set meals for additional prices. A regular is available in the River Kwai Jungle Rafts Restaurant as well. No drinks are included in the price of the tour except for 2 small bottles of water per day. Additional drinking water must be bought in the restaurant or in the Mon village local shop. Any extra trips back to Phutakien Pier are not included in the tour and must be paid for.
We'd recommend taking any extra snacks, drinks or other products with you to the Jungle Rafts rather than organising a trip just to go to a closest 7 Eleven. It's definitely not worth it.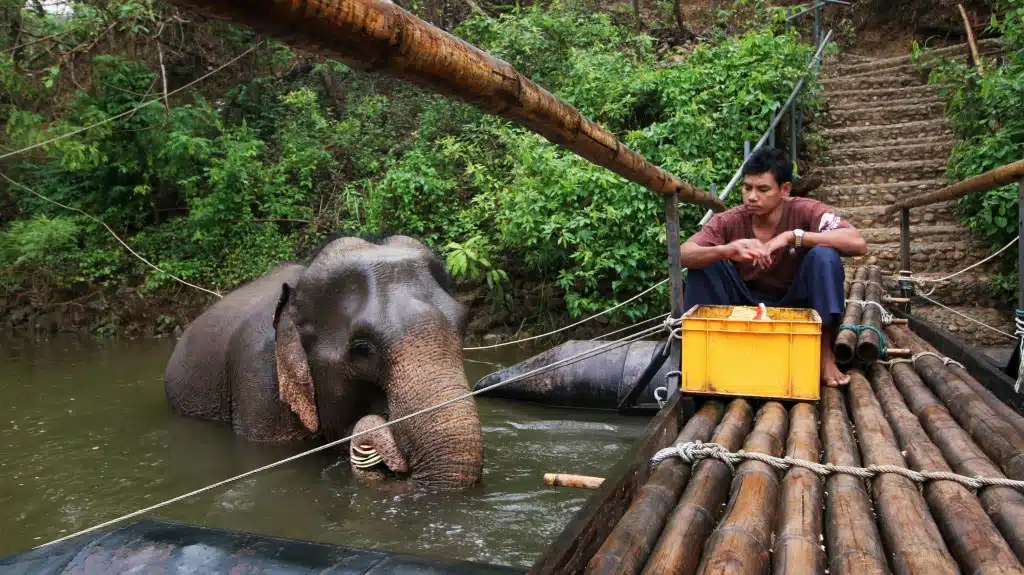 Visiting Mon tribe village in Kanchanaburi
The employees of the floating hotel are actually the Mon tribe people living in a village nearby. The village is located about 5 minutes away from the floating rafts. And it's the only civilisation you'll get during your stay. Guests of the hotel are free to go explore the village and talk to the people living there.
You can visit the local temple, buy some essential products in a small shop or feed their elephant some fruit. There's a small museum with interesting objects that help you understand the way of living in a Mon village and your guide will surely explain everything in detail to you as they walk you around the tribal village.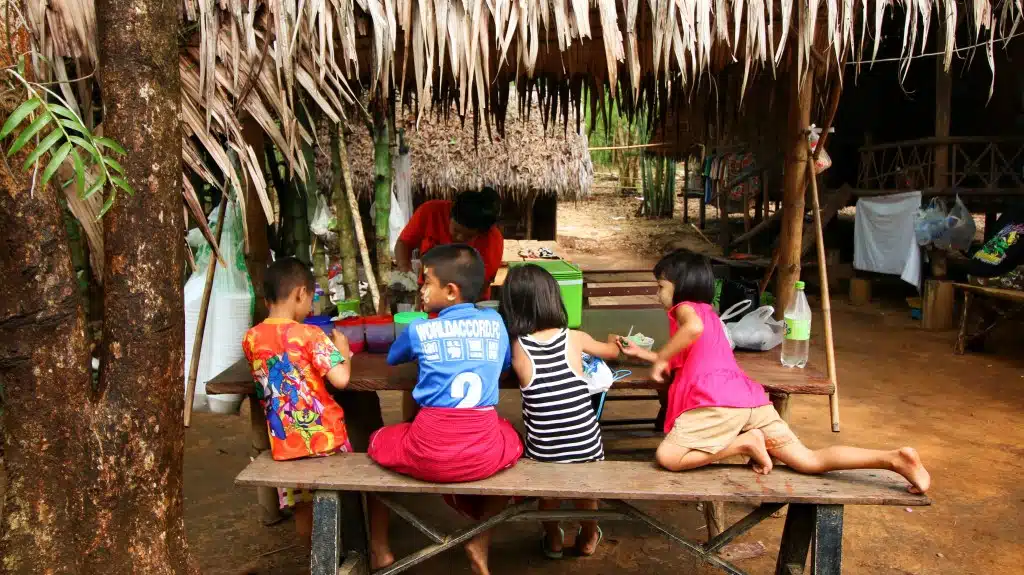 ou may also like: 15 Best Hotels in Bangkok with Swimming Pools under $50 USD or Solitaire Bangkok Hotel: Luxury in Sukhumvit (review).
On the first evening after our arrival, we had an opportunity to see a Mon traditional dance show that is always performed for new guests. It was loud, colourful, and incredibly interesting. We really enjoyed it and it was great to see both kids and adults performing, both men and women. Even though it was only about half an hour long, it got us talking about it for the rest of our evening.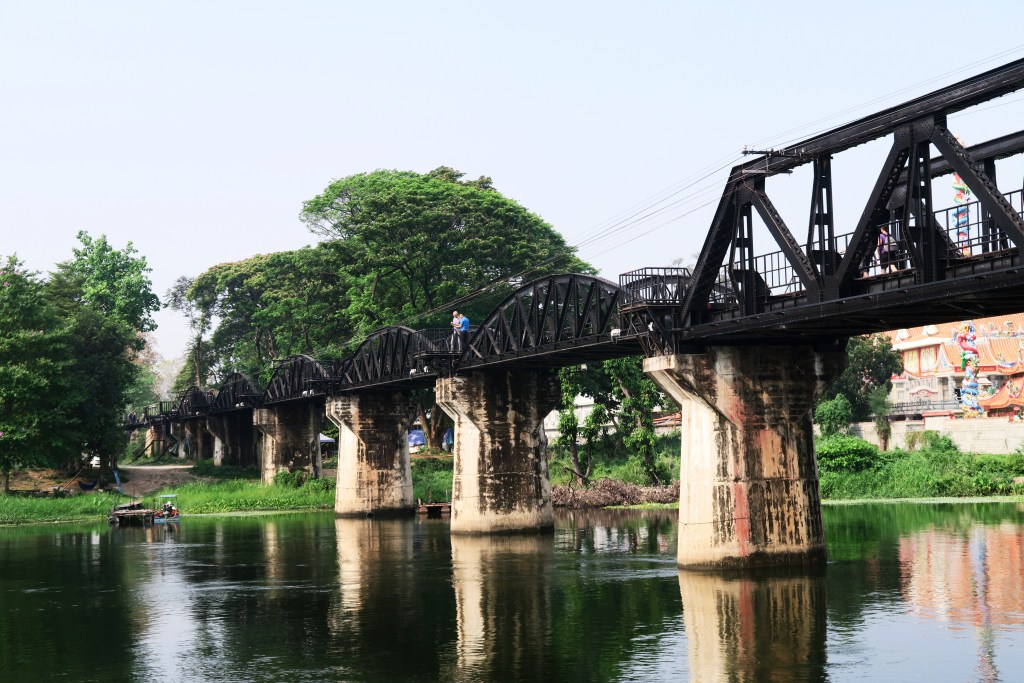 Sightseeing in Kanchanaburi
The historical aspects of the whole tour were very eye-opening for us, as we haven't had a chance ever before to learn anything about the Death Railway or all the events surrounding the famous bridge over River Kwai. It was an eye-opening experience to learn the whole story behind it.
Taking the tour to stay at this jungle raft hotel gives you an opportunity to visit some of the unique historical sites in Thailand. You can take the ferry (or the bus) down the river Kwai to visit the bridge and walk across it. It's a beautiful place and I must admit I underestimated it before I actually saw it.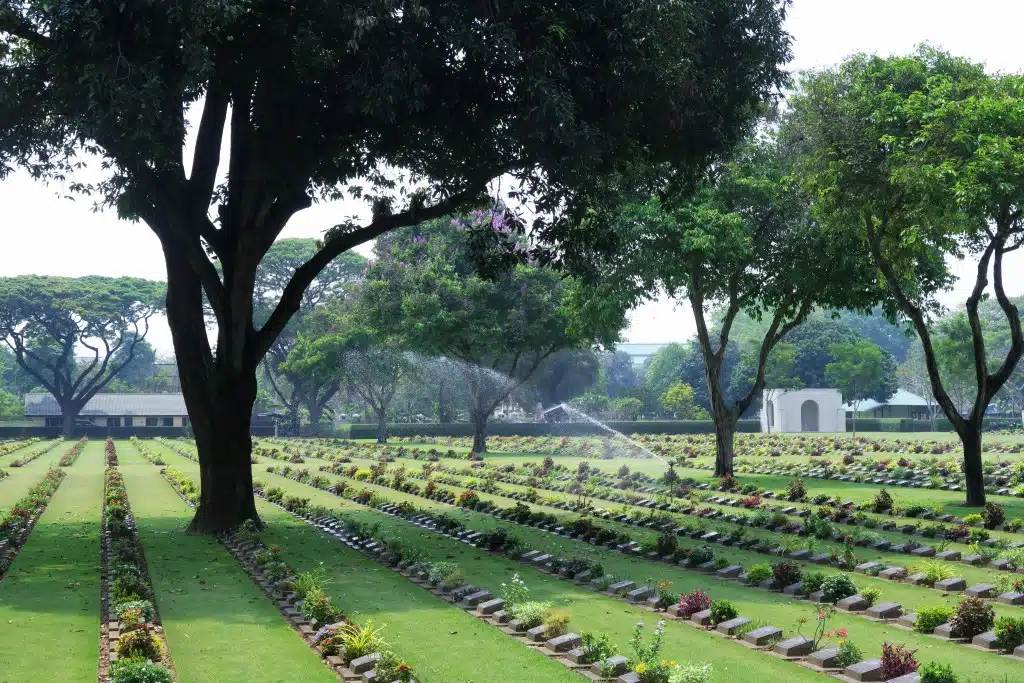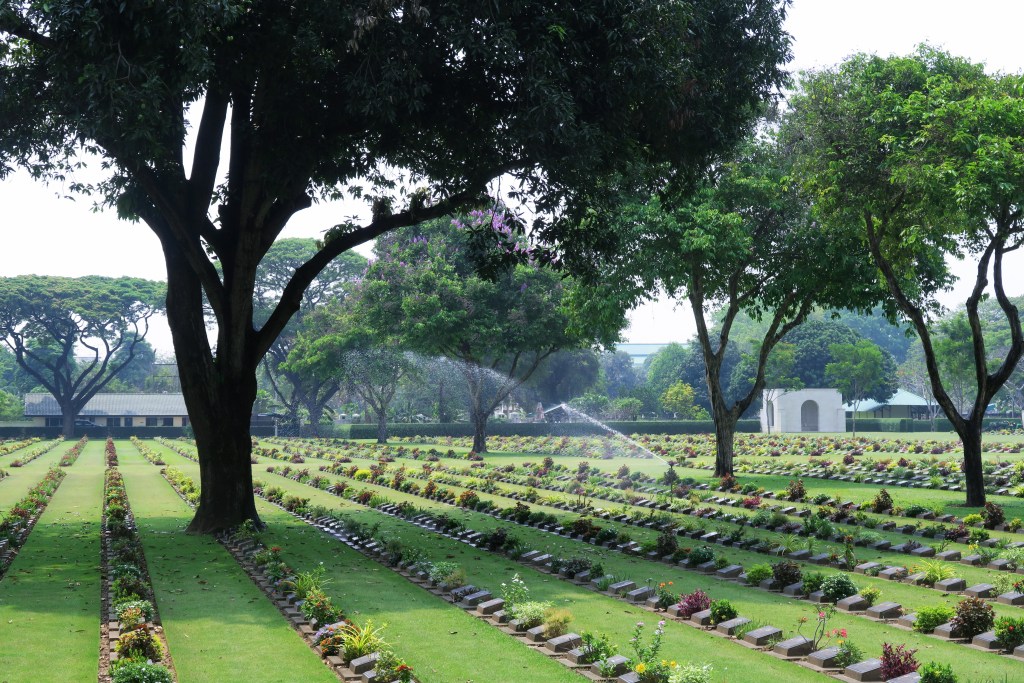 The tours also include a visit to the Thailand-Burma Railway Centre that explains in great depth the tragic history behind the construction of the Death Railway. You can also visit the Allied Prisoners of War Cemetery and the Hellfire Pass Memorial. Moreover, the return trip back to Bangkok at the end of your tour will start with a ride on the Death Railway Train passing over the original wooden viaduct. The views are absolutely breathtaking, but remember to sit on the right side of the train!
River Kwai Jungle Raft Experience we will never forget
Staying at this jungle raft hotel over River Kwai was a fantastic experience both culturally and mentally. There are, of course, a few more raft hotels nearby to choose from, but why go to a luxurious raft place with wifi, phone signal, electricity and air conditioning?
River Kwai Jungle Rafts quite literally takes you away from your laptop and your phone and forces you to appreciate your surroundings. The views, the sounds, the smells. It gives you a chance to experience life as you've never experienced it before. It teaches you how the Mon people live, what their culture is like and why they choose to live their lives this way. I will honestly remember staying at River Kwai Jungle Rafts Floating Hotel for the rest of my life.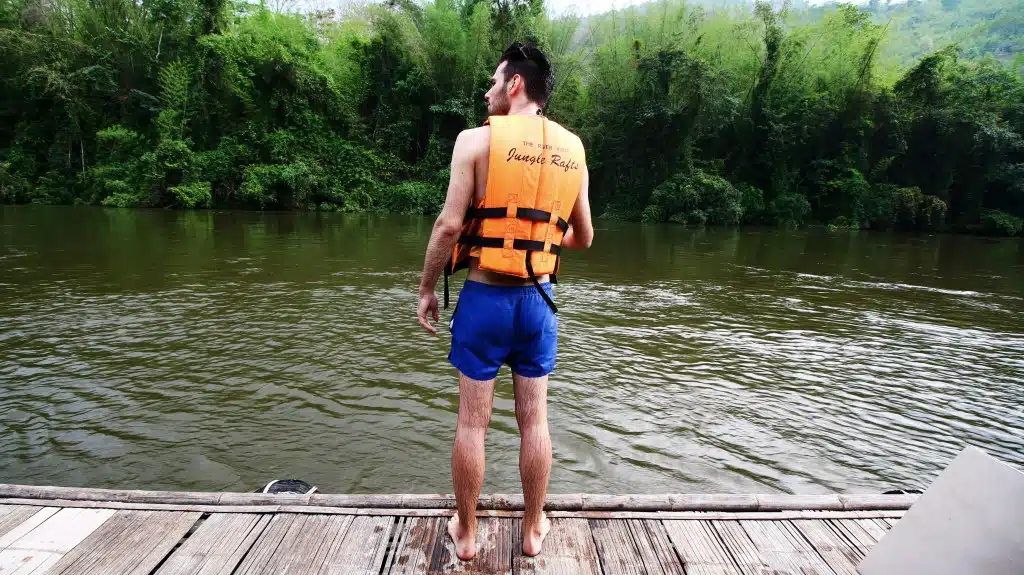 River Kwai Jungle Raft Floating Hotel Tours
The thing about this hotel is that it seems pointless to book it via Agoda or any other hotel service. What you need is a whole tour, preferably from Bangkok, that you can book online via River Kwai Jungle Rafts Floating Hotel website. Why?
Because the tours usually include:
– accommodation at River Kwai Jungle Raft Hotel for a chosen amount of nights
– meals throughout your stay at River Kwai Jungle Rafts
– return transport from Bangkok to River Kwai Jungle Raft Hotel (including a bus to Kanchanaburi and a long-tail boat to the hotel)
– visit Thailand-Burma Railway Centre and the Allied War Cemetery
– visit the Hellfire Pass Memorial
– traditional Mon Dance performance
– guide to walk you through the Mon Village
– a ride on the Death Railway Train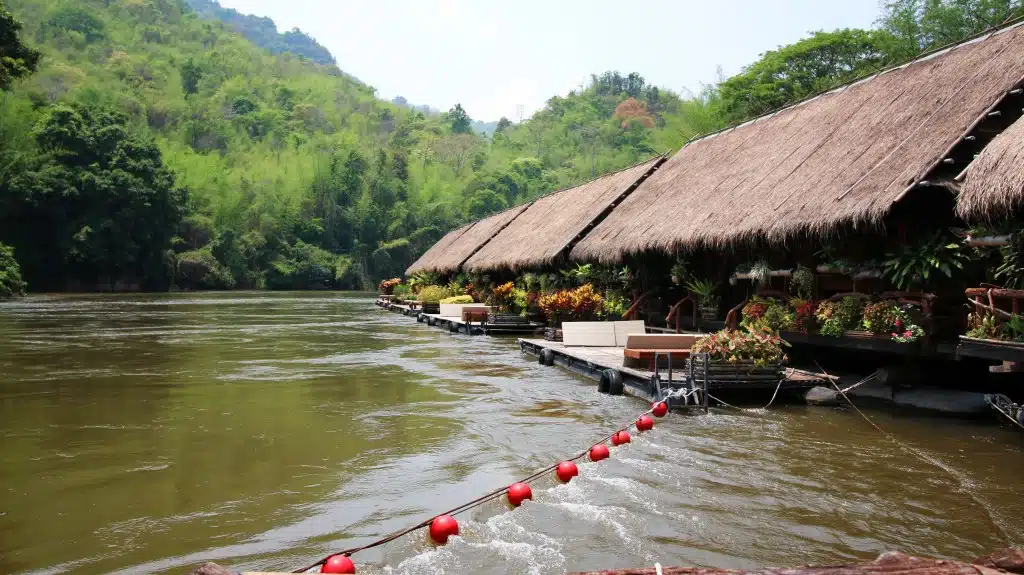 The tours may be 1 night or 2 night long and can be combined with a 1 or 2-night stay at River Kwai Jungle Raft's sister hotel, Hintok River Camp nearby which we also visited. As far as the floating jungle raft hotel goes, we'd recommend going there for 2 nights to immerse yourself in this beautiful world without social media and electricity.
The best Day Trip from Bangkok
If your itinerary for a vacation in Thailand is already stretched, we would very much recommend a day trip to Kanchanaburi offered by River Kwai Jungle Rafts.
The day trip usually starts at 6 am with a 3-hour bus ride from Bangkok to Kanchanaburi. Then you get to visit the famous Bridge over the River Kwai, the Thailand-Burma Railway Centre, and the Allied War Cemetery, have lunch at a local restaurant and ride the Death Railway Train passing over original wooden viaduct constructed by Allied POWs. You return to Bangkok around 6 pm depending on traffic in the city.
River Kwai Jungle Rafts Hotel
Website: River Kwai Jungle Rafts Floating Hotel
Address: Baan Tahsao, Amphur Saiyok, Kanchanaburi 70150, Thailand
Check out their profile on Agoda and Booking.com.
For reservations and enquiries call Bangkok Office:
+66 (2) 642 5497 (8.30 am – 9.00 pm daily)
Like it? Pin it!