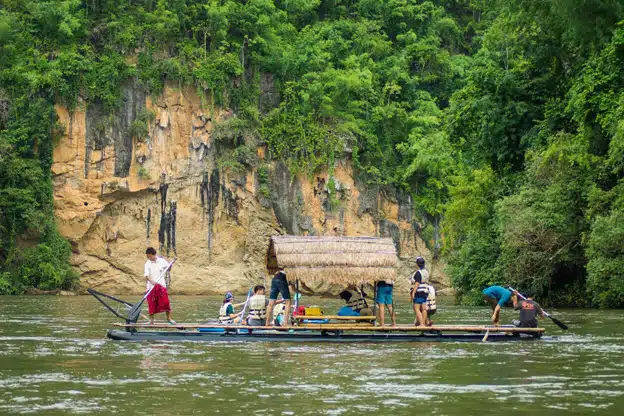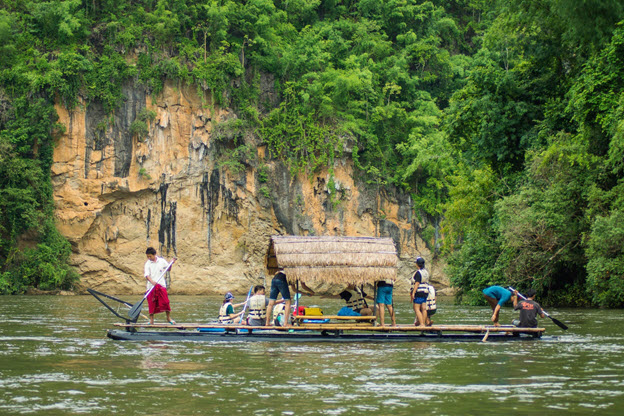 In a world when we are constantly surrounded by noise and buzz, where we are connected on line 24/7, and it tends to feel as if the world is moving way to fast. River Kwai Jungle Rafts is just the place to be and relax. Indulge in the amazing experience of reconnecting with nature and enjoy the possibility of being able to relax away from everything, in an eco-friendly hotel.
Worried about climate change, and the overall health of this Planet, River Kwai Jungle Rafts has no electricity, creating a unique ambience that just makes you enjoy the simplicity of not being in the modern world. Every moment here is memorable, from waking up seeing an elephant bath on the arriver, and if you desire so, there is always the possibility of feeding it. To the mouthwatering occidental breakfast served every day, allowing you to enjoy in the amazing morning view over the river. Afterwards the amount of activities you can do here are overwhelming, but no matter what you decide to do, you will never lose the atmosphere that makes us so unique. From bamboo rafting, to visiting the death railway every adventure in River Kwai Jungle Rafts is a promise of a magical time.
We know you may want to relax while your stay with us. There is not to worry, you can make your trip with us as active or relaxing as you want, or even find different activities for the whole family to enjoy. A common practice among guest is to lie back on the hammock and appreciate some "me time" while reading that book that we all wanted to get to over a year ago. Other most rather go sunbathing while listening while the river's water goes by, as well as the beautiful life nature surrounding them. The Thai massages available at the hotel are amongst the best you will ever get, leaving your body and mind in a peaceful sate were you feel completely relax to keep enjoying your vacation.
Kids love running around from the end of the resort to the front to relive the amazing experience of swimming in the clear water of the river. Bringing joy and happiness to all those who try it, it makes this a view you'll never get tired of. Friends and family gather around the terrace of the restaurant to enjoy some drinks and catch up on current events of their life's, or just to gossip and spend time together with those they love.

No matter how you decide to pass you day at River Kwai Jungle Rafts, every evening there is an spectacular show for your eyes only brought to you by nature. The sunsets you can see at the hotel are just breathtaking and ones of the most beautiful ever seen around the world. With the amazing landscape that surrounds you, accompanied by candle light, sunset has just that magic that makes your day a great one.
Dinner is finally served on the terrace where you can try the best of Thailand flavors. With great service, the company of those you love, and the overall atmosphere of the hotel there is no way possible you'll have a bad time. For those who want to experience a bit more about the local culture, after dinner you can see the authentic mon dance. These presentations where originally used so teach people right from wrong, and always give a valuable lesson at the end. Today it is a great way to learn more about the culture, and have a great time while listening to the music and enjoying the typical and vibrant costumes.
There is no place else like this, try something new and adventures and dare yourself to make your travels responsibly, while still enjoying all the comforts you look for. River Kwai Jungle Rafts happily awaits you for your next great big adventure. We hope to see you soon!