Many of our guests love the serene atmosphere and the 'back-to-nature' concept of River Kwai Jungle Rafts.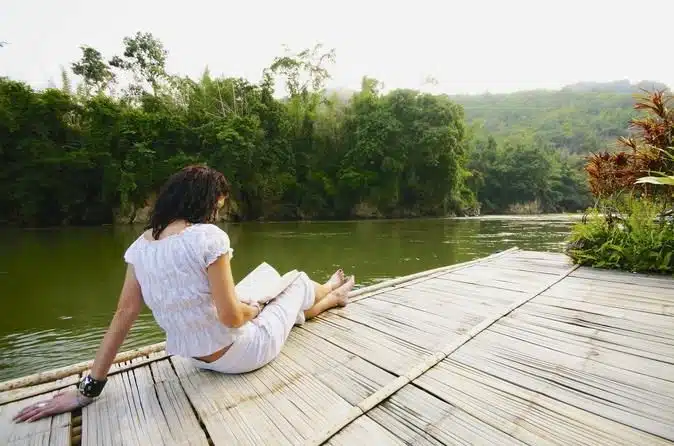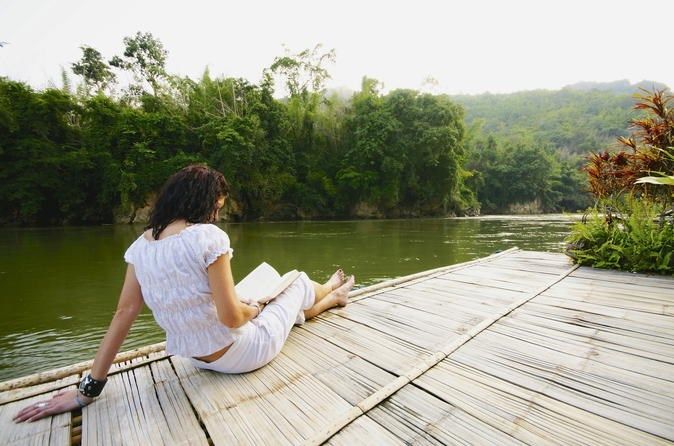 Choosing not to use electricity here is because of the conservation of our unique concept as such a hideaway place that you can live a different life when surrounded by raw nature.
It is where you are 'disconnected' from time, during the daily work life and addiction to mobile phones. There are no cars around and cannot be reached by road. It is only accessible by boat. It is your time to stay with nature and experience the culture of the local villagers, appreciate it and help to preserve it.
Unfortunately there may be a few that are too attached to their online accounts and believe not to be fit to life close to nature. To know if we are the one for you or that we would have to revere you to our other sister accommodations, please read on….
If you are someone who has phobias about flora or fauna;
Trees, plants, water, flowers, birds, wild animals, insects, tame animals …… do reconsider.
We won't, don't and can't cut down the jungle. So, if you would rather stay in a sterile environment …… think again.
If you need to update your social media status every hour and only want to communicate and gain an experience though a screen …… don't come.
Our floating rooms are made from bamboo and are really located on the water in the middle of the jungle, so if you can only sleep when everything around you stays extremely quiet and still we won't be the best choice for you!
Are you not able to entertain yourself or don't want to do any fun activities that are in or around nature ….. we are probably not for you.
For your clarity, even though we are located on the water, it does not mean that the water has to drop into the river. The water from our bathroom goes into a flat septic tank and is filtered by our water management system.
We are an environmentally friendly resort. Please read what our concept entails and how we carry this though in our resort.
Recommendations
It is sometimes necessary to push yourself out of your comfort zone. It helps you to learn and grow. There are a few people who could not adapt in the first place, but when they really spend some time with us, they became our regularly returned guests. Sometimes in life, we reject to accept when things are different from our past experiences, but once we adapt to it. We will see another world that's worthwhile exploring.